Open!
following the following new measures!
New measures for cafes and restaurants as of May 16
Extension of the opening time to 10 p.m.
4 people per table on the terrace (except households)
Opening of the gastronomy inside with 4 people per table (except households)
Distancing and health measures will remain in force
Stay informed on the situation by visiting our Facebook page at https://www.facebook.com/hoteldelasure
For any information or additional questions, you can contact us at any time 7 days/7:
+352 83 91 10 or on info@hotel-de-la-sure.lu
Take care of yourselfs,
Sylvia, Bianca, Ronald and all their team.
Food allergy?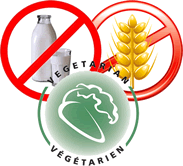 Food allergy? You follow a special diet?

For people who suffer from a food allergy (eg. Allergies to lactose or gluten), for people with diabetes, for those who need to eat without salt, for vegetarians etc ....
We offer dishes specially adapted so that you too can safely enjoy your vacation and the cuisine in our hotel!
TOP