Hello [NOM_PRENOM],
Permanent offers
Enjoy our extreme discounts for your stay in MIDWEEK; quickly consult the Hotel tab on our website or the summary sheet below.
Ask our loyalty advantage card to save 10% discount on your lodgings
Free during your stay : access to our unique Rock Spa - Wellness & Beauty Center over 1500 sqm and 3 floors, carved into the rock, to our gym, table tennis, canoes, rowboats, slot racing, petanque, Wi-Fi.
Remember prices are always per person including VAT unless mentioned otherwise.
All our offers and promotions (without exception) are subject to our general conditions which you can read here unless mentioned otherwise in the offer
spring is coming!
and the motocycle season will soon begin. Time to oil the breaks!
And we start off with a great promotion for all those who love sharp turns, nature and gastronomy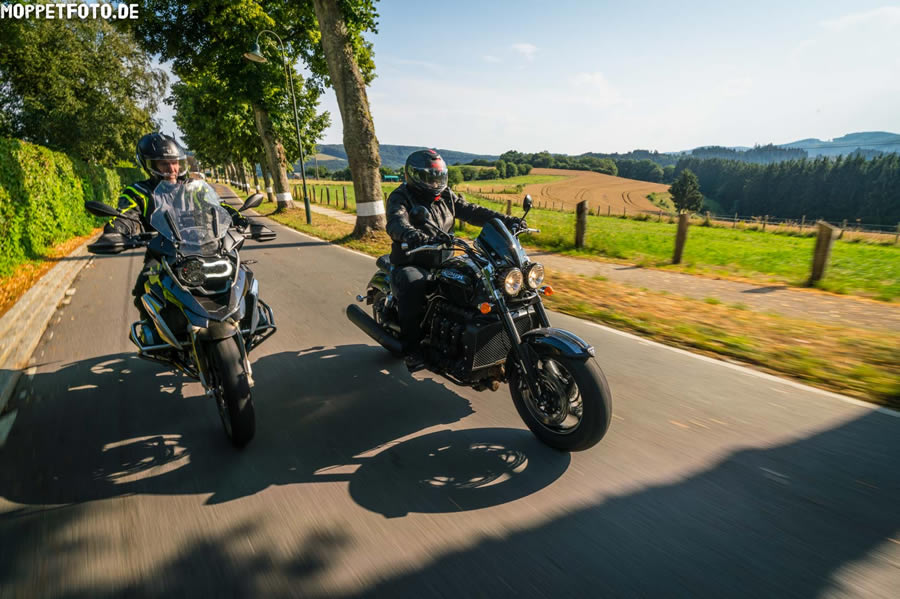 LET'S MOTORBIKE TOGETHER
Daily arrival :

2 nights with local breakfast buffet
welcome cocktail
1 x 3 course dinner
1 culinary 5 course dinner
1 "Klensch" glass as a present
with 2 refills of ½ litre Diekirch beer
1 T-shirt or buff of the house as a gift
a coffee mug, as a present, filled with coffee or tea vum Séi
detailed ABC road book

guided tour with Ronald, minimum 5 persons, on request
| | | | |
| --- | --- | --- | --- |
| Room type | C | E | F |
| Midweek | 200 € | 246 € | 238 € |
| Weekend | 235 € | 289 € | 280 € |
Price per person
Free access to the Rock Spa & Wellness during your stay.
Extra charge for a double-room for single use: 57.00 €
OUR EASTER MENU

EASTERMENU
During the whole month of april
Amuse printanière
Feuilleté croustillant et coulis basilic / salade de pasta au fromage frais
******
Le filet de truite de nos rivières soufflé et pointes asperges,
feuille de brique, jus de crabe épicé aux salicornes, risotto d'épeautre
******
La crème rafraichissante aux asperges printanières
******
Le filet d'agneau à la crème d'ail de l'ours de Michelau
OU
La paire de selle de carré de veau et mignon de bœuf bardé Bordelaise
La Jardinière de Pâques aux arômes du jardin et asperges
Pommes dauphines
******
Le gâteau framboisier, croquant chocolat et fruits sucrés,
sorbet pistache, ganache de chocolat praliné parfumé
55.00 €
For our little friends
Crème rafraichissante aux tomates
*****
La paire de selle de carré de veau et mignon de bœuf bardé Bordelaise
Pommes Frites
*****
Coupe glace surprise
19.75 €
Rock Spa & Wellness offer April 2022
Hot Stone Massage 55 minutes
85 € in stead of 95€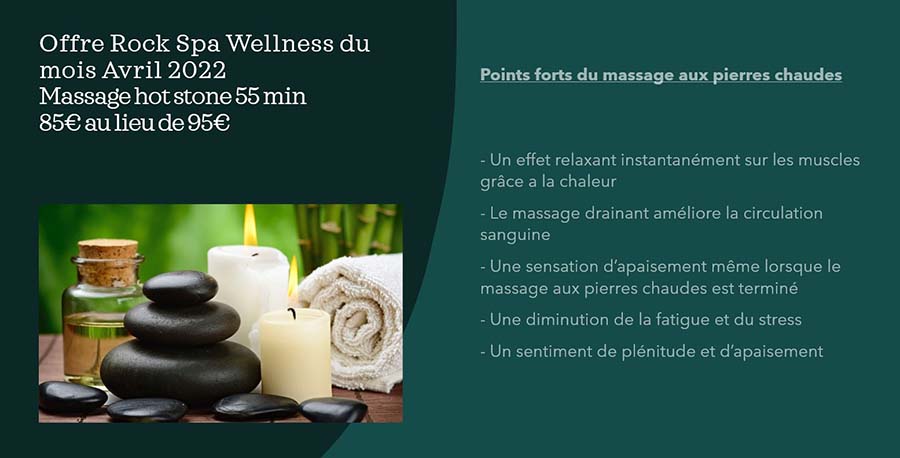 Key strengths of hot stone massage
- An instantly relaxing effect on the muscles thanks to the heat
- Draining massage improves blood circulation
- A feeling of calm even when the hot stone massage is over
- Reduced fatigue and stress
- A feeling of fullness and calm

new in 2022: "ENERGIES & VIBRATIONS
Welcome to a UNIVERSE OF ENERGY AND VIBRATION
that will bring harmony to your body and mind.
Come to the Rock Spa & Wellness for a deep experience of meditation and healing through different techniques.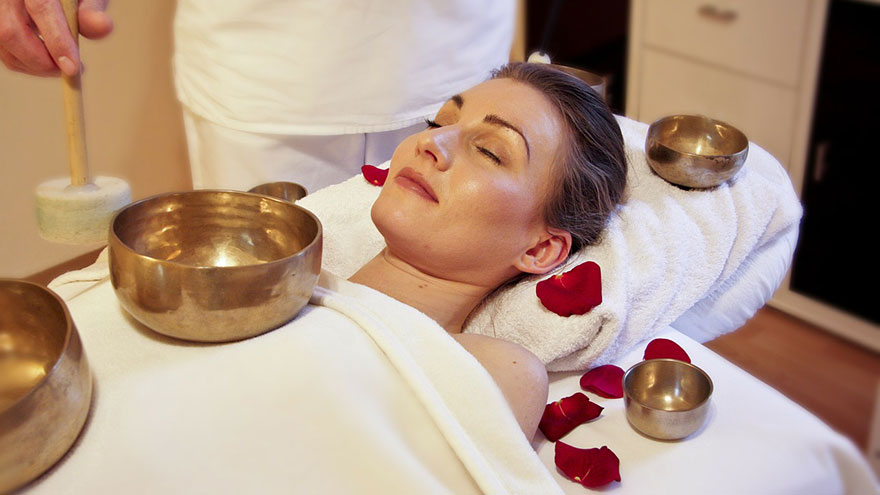 Vincent proposes the following therapies:
Sonotherapy
Lithotherapy
Reiki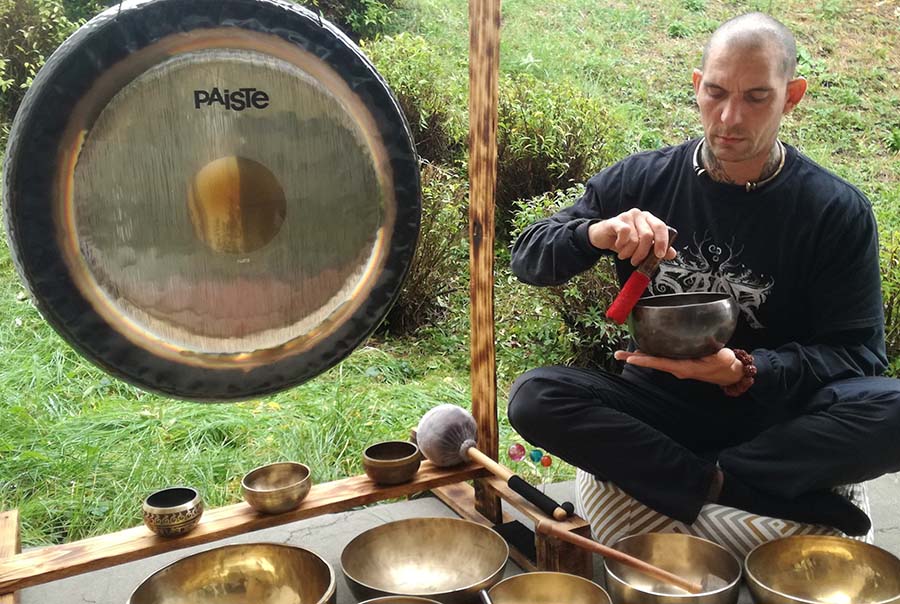 Available 7/7 by appointment
He will take you on a spiritual and wellness journey that will improve your energetic health by promoting the healing of emotional trauma.
Combined with Rock Spa & Wellness (access from 11.00 am to 8 pm) = - 50% off the entrance fee
Sonotherapy :
Sound therapy
Lithotherapy :
Precious stones
Reiki :
Ancestral healing therapy improving the physical, psychic...

All 3 treatments :

1 person: 90 minutes: 80 €.
2 towels, 1 bathrobe included

DUO: 90 minutes: 110 €.
4 towels, 2 bathrobes included

A 120 minute group session:

Outdoor Sound travel (only in summer)
Min 4 pers : 35 € /p.p
Min 6 pers : 25 € /p.p
Children -12 years old: 15 €.

Medieval sound journey on the site of the oldest fortified castle in Luxembourg
(let yourself be surprised)
outdoors in good weather (only in summer)
Min 4 pers : 40 € /p.p
Min 6 pers : 30 € /p.p
Children -12 years old : 15 € /p.p.

5 sessions + 1 free

1 person : 60 minutes :
70 €.
2 towels, 1 bathrobe included


1 person : 60 minutes : 85 €
2 towels, 1 bathrobe included


1 person : 90 minutes: 110 €.
2 towels, 1 bathrobe included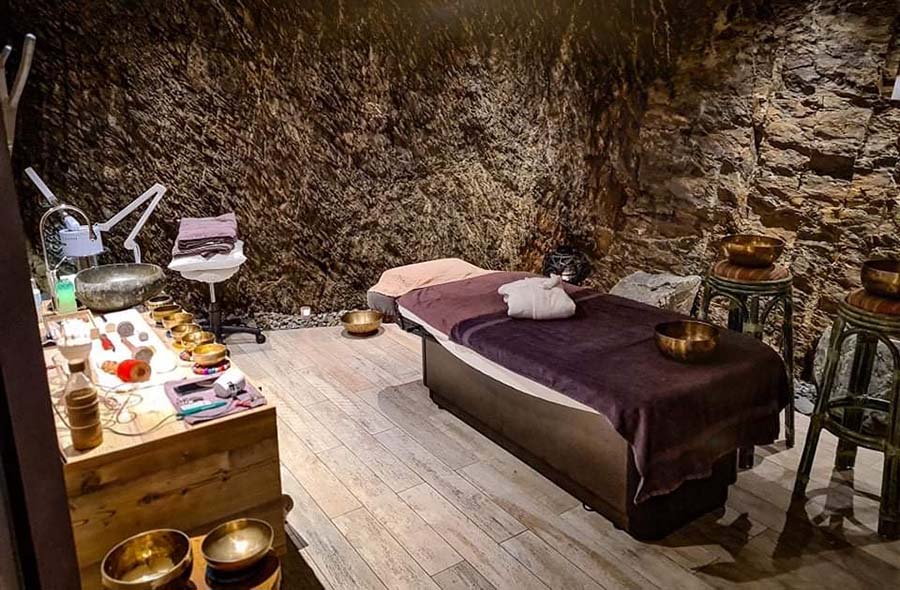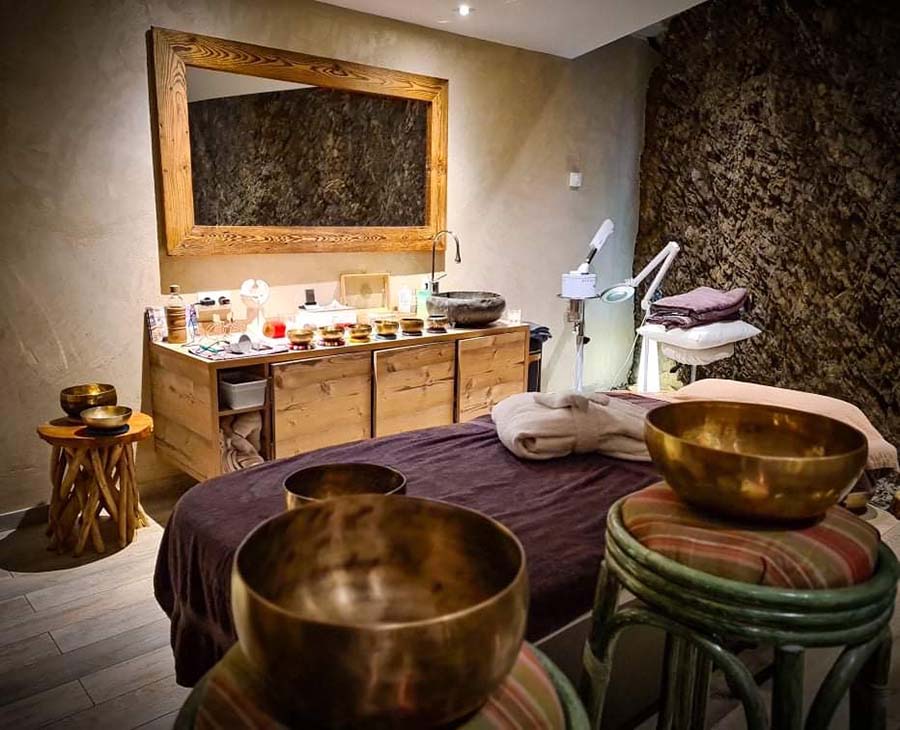 Save THE DATE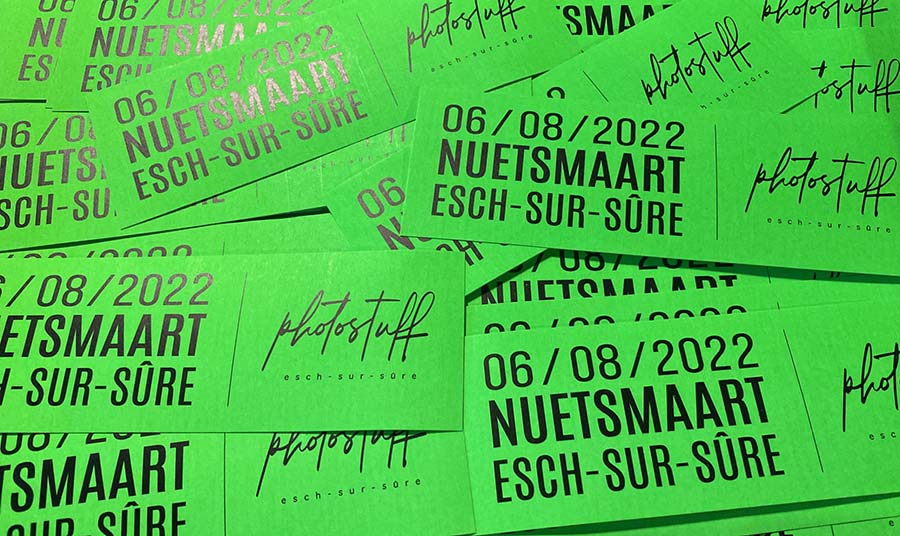 Do you know Hobbyists who produce their own articles and who may be interested in exhibiting?
Please pass the information.
Thank to our Co-Sponsors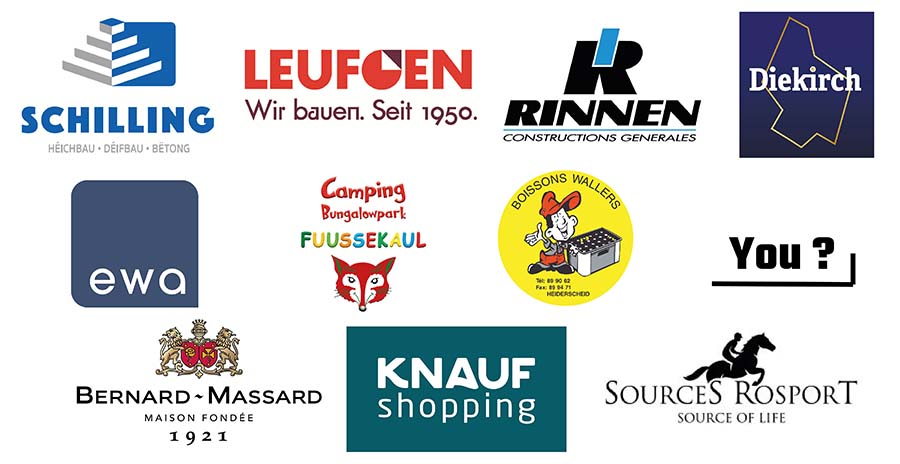 If you are also interested to be a Co - Sponsor or Sponsor to support our festivities, please contact us!
All contact at Tel. 00352 621 622 123
exhibition Odile Monfort

I have always loved to draw, but for 20 years I have exchanged my pencil for a brush to paint watercolors.
This technique is a way of being, of living and translating the beauty of what I feel.
Selections at the Salons Printemps de l'Aquarelle et des Aquarellistes Francophones of Belgium, perpetuated the collaboration with my teachers.
I find my pleasure in painting, in the philosophy of the freedom of watercolor and in the audacity to give free rein to my imagination.
Painting watercolors is not about mixing colors and water, but about the white I leave on the paper.
Odile Monfort.
odile_monfort@yahoo.fr - 0032 485 71 86 73
find your happiness in our shop
Do you want to decorate your interior, your garden or your terrace?
Are you looking for a unique jewel? Or are you looking for a nice gift?
You want a gift within a certain budget, but you don't know what? Then a gift voucher is the solution.
You will definitely find what you are looking for with us.

Come to SCHMAACH ËM DE SÉI A MÉI & HOBBY, ARTS AND CRAFTS.
Open every day, 7 days a week from 8:00 am to 6:00 pm.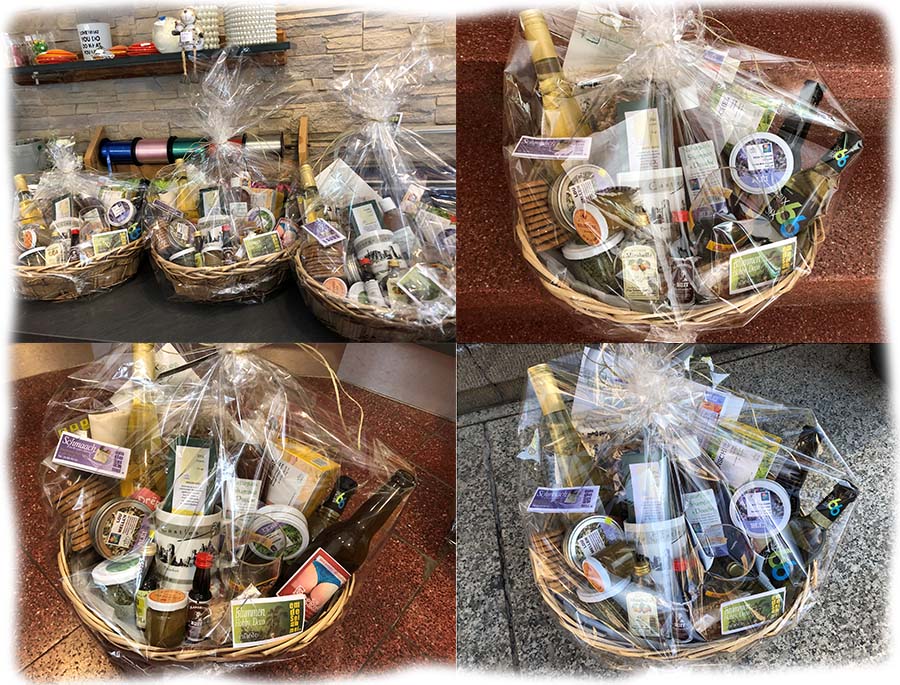 Schmaach ëm de Séi a méi
Rue du Moulin 1 - L-9650 Esch-sur-Sûre - Tel 26 889 003 - Fax 26 889 464
schmaach@emdeseiamei.lu - www.emdeseiamei.lu
and come and enjoy our large terrace schmaach
on riverside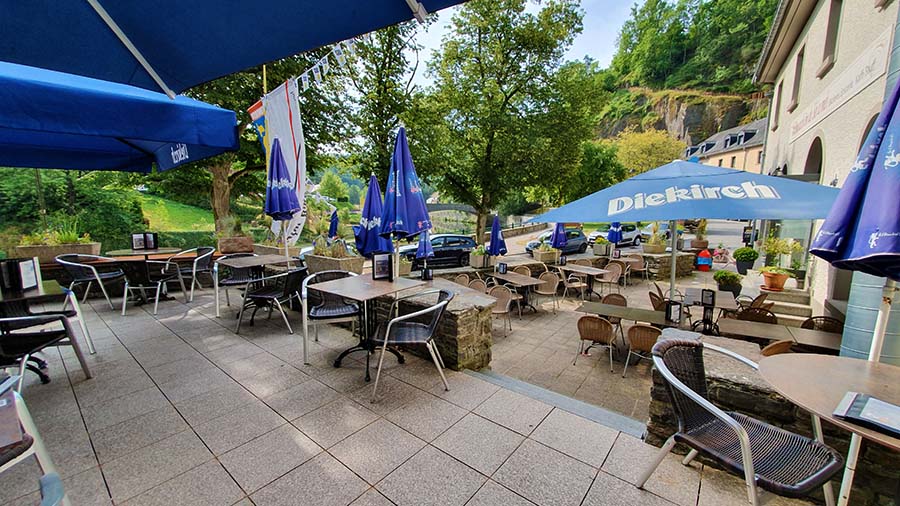 Rock Box Cadeau

Well-being ideas to give, thank, motivate or congratulate your friends, family, employees and customers ...
Order your gift voucher on https://www.bon-cadeau-wellness.xyz/rock-spa-wellness-lu
Your gift voucher is valid 1 Year and will be send to you immediately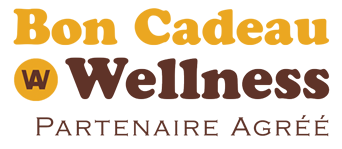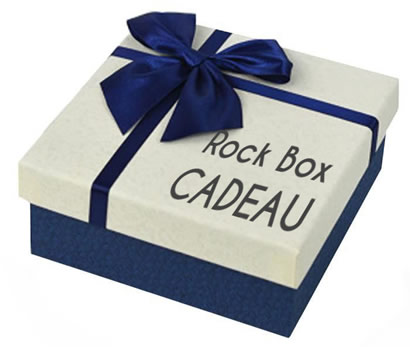 GREEN ROCK BOX 55.00 €
SAPHIR ROCK BOX 110.00 €
CRYSTAL ROCK BOX 220.00 €
DIAMOND ROCK BOX 330.00 €
The choice of the budget is up to you, the choice of the gift to the recipient
With this gift voucher, your beneficiary will also have the choice between 2 or 3 formulas:
a PACKAGE BEAUTY & WELLNESS CARE
a PACKAGE RELAXATION & GOURMET FUN
A set with THALGO products or a basket of local products Schmaach ëm de Séi a méi
Details of the formulas:
GREEN ROCK BOX
3 formulas to choose from - 1 person 55.00 €
PACKAGE BEAUTY & WELLNESS CARE
1 day access to the Rock Spa Wellness & Fitness
Bathrobe - towel included
1 Zen massage 25 min
PACKAGE RELAXATION & GOURMET FUN
1 day access to the Rock Spa Wellness & Fitness
Bathrobe - towel included
1 Eye Beauty glasses 15 min
1 lunch at the brasserie
PACKAGE OF PRODUCTS
SET with care products THALGO
or
GIFTBASKET filled with products Schmaach ëm de Séi a méi

SAPHIR ROCK BOX
3 formulas to choose from - 2 persons 110.00 €
PACKAGE BEAUTY & WELLNESS CARE
1 day access to the Rock Spa Wellness & Fitness
Bathrobe - towel included
1 duo reflexology 25 min
1 detox tea
PACKAGE RELAXATION & GOURMET FUN
1 Dinner (evening) of a 3-cours MENU GOURMAND at the restaurant (drinks excluded) but accompanied by a glass of crémant
1 hand massage 15 min
PACKAGE OF PRODUCTS
SET with care products THALGO
or
GIFTBASKET filled with products Schmaach ëm de Séi a méi

CRYSTAL ROCK BOX
3 formulas to choose from - 2 persons 220.00 €
PACKAGE BEAUTY & WELLNESS CARE
1 day access to the Rock Spa Wellness & Fitness
Bathrobe - towel included
1 duo full body massage 55 min
1 Cleopatra bath for two with a plate of fruits and 2 glasses of crémant
PACKAGE RELAXATION & GOURMET FUN
1 night in a room with Jacuzzi
2 days access to the Rock Spa Wellness & Fitness
1 bottle of crémant in your room
1 regional buffet breakfast
1 duo digito-pressure face massage 15 min
PACKAGE OF PRODUCTS
SET with care products THALGO
or
breakfast at the Schmaach ëm de Séi a méi
one or more GIFTBASKETS filled with products Schmaach ëm de Séi a méi

DIAMONT ROCK BOX
2 formulas to choose from - 2 persons 330.00 €
PACKAGE BEAUTY & WELLNESS CARE
1 day access to the Rock Spa Wellness & Fitness
Bathrobe - towel included
1 duo face beauty treatment 'ritual purity' 55 min
1 duo full body massage of 55 min
PACKAGE RELAXATION & GOURMET FUN
1 night in a double room with hammam-massage shower
1 gastronomic 5-cours menu
2 days access to the Rock Spa Wellness & Fitness
Regional breakfast buffet
High Heels Bathtub 1 hour

open 7 days / 7