Hello [NOM_PRENOM],
PRIVACY POLICY
Protection of your personal information
Collection of data
We collect your information only through our booking or information request forms.
Use of data.
We use your data only for the sole purpose of being able to contact you in the express frame of your different requests for bookings or request for information concerning our hotel, restaurant, Wellness or shop, and of our commercial relationship which may result .
In case you also agree to receive our newsletter we use your email data to send you this information.
Sharing data
We do not share your data with third parties.
Deleting or changing data
PLEASE! If you no longer wish to receive our Newsletter, click here to unsubscribe now and you will never receive mail from us in the futur.
You can always find an unsubscribe link at the bottom of the Newsletter.
Permanent offers
For stays during the week save 15% on prices shown (excluding holidays and holiday season)
Ask our loyalty card to save 10% discount on stays
Free during your stay : access to our unique Rock Spa - Wellness & Beauty Center over 1500 sqm and 3 floors, carved into the rock, to our gym, table tennis, canoes, rowboats, slot racing, petanque, Wi-Fi.
Remember prices are always per person including VAT unless mentioned otherwise.
All our offers and promotions (without exception) are subject to our general conditions which you can read here unless mentioned otherwise in the offer
NEW FREE TRIAL!!!

Try out the new permanent hair removal by laser Light Sheer By Carine Delvaux (15 years of exprience)
We will be present at Rock Spa & Wellness
Thursday, June 07, 2018
Thursday, June 28, 2018
Thursday, July 26, 2018
IMMEDIATE RESULT GUARANTEED !!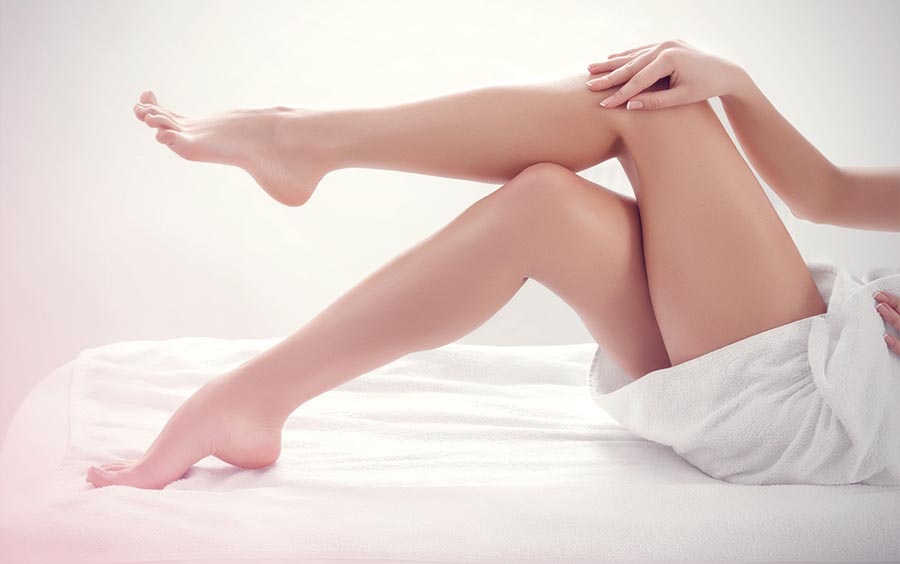 june Promotion : SOFT PACK

Reserve now a 2 nights stay between Sunday and Friday
and enjoy our SOFT PACKING offer for 1 person during 30 minutes
Free access to the ROCK SPA & WELLNESS during 3 days between 11am and 8pm
Mention on the RESERVATION please: OFFER JUNE SPA SOFT
CULTIVATE YOUR YOUTH WITH OUR THALGO CARE ..

Anti-aging treatments
- Smoothing collagen care
- Hyaluronic Filler care
- Silicon Lifting care
99.00 € instead of 110.00 €
BOOK NOW
Validity June 2018
WELLNESS - mother's day in luxemburg sunday 10th june !

Choose your own gift in our Rock Spa Wellness & Beauty Center.
Day cream + gift according to the needs of your dear and tender mother.
SALE OF WOMEN JEWELERY IN OUR ROCK SPA WELLNESS & BEAUTY CENTER.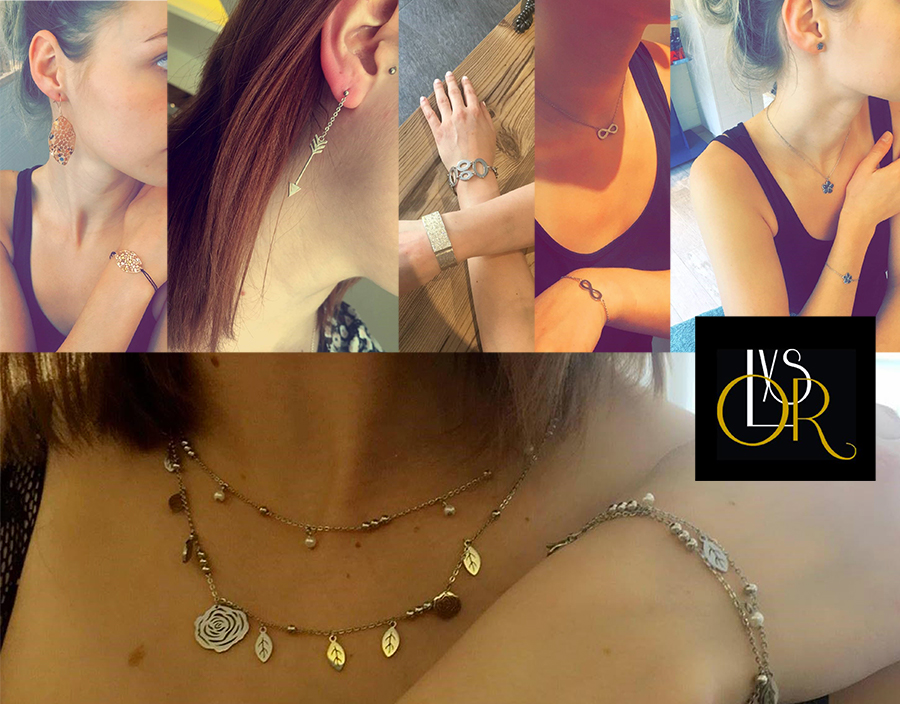 Come and visit us...
You can also give a gift voucher with a money value or a care of your choice ...


MENU MOTHER'S DAY

L'Agape du Parc Naturel Öewersauer
*****
Les filets de soles « ALEXIS HECK »
garnie
ou
La petite Salade tiède «GOURMANDE DU MOMENT»
*****
Le Crystal de Bœuf aux fins légumes parfumés
*****
Le Médaillon de Cœur de Bœuf et Selle de Veau farcie
aux Amours de la forêt et son jus de Porto
Bouquetière de Légumes du Jardin
Galettes de Pommes de Terre
*****
Le Baiser de maman aux Fraises
A la glace vanille et son coulis vanille bourbon
49,75 €
MENU ENFANT
Le Crystal de Bœuf aux fins légumes parfumés
*****
Le Médaillon de Cœur de Bœuf et Selle de Veau farcie
aux Amours de la forêt et son jus de Porto
Bouquetière de Légumes du Jardin
Galettes de Pommes de Terre
*****
La Glace Surprise
19.75 €
our "friture" at the foot of the village is open

Do you fancy fries, a burger, a snack, a drink or an ice cream to take away or to eat on the spot?
Now the Mac Ronald's INN is open for your enjoyment.
Just below our store Schmaach ëm de Séi a méi
Mac Ronald's INN - Rue du Moulin 1 - L-9650 Esch-sur-Sûre
For Groups we kindly ask to reserve in advance if possible tel/ 00352 621 622 123 Thank you !!!!

The sun is back !
Enjoy our panoramic terrace to enjoy our menus with friends or family.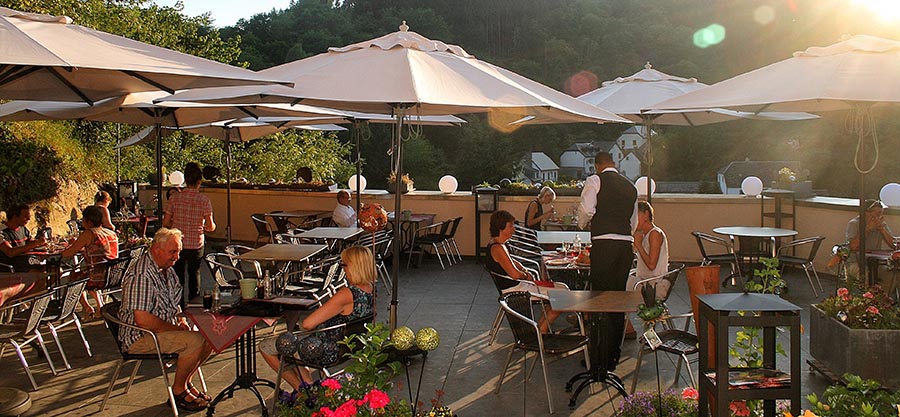 DISCOVER LUXEMBURG AND ITS NATURAL PARC

4 nights with local breakfast buffet
1 welcome cocktail
4 culinary 3 course menus
1 "Klensch" glass as a present
with 2 refills of ½ litre Diekirch beer
1 T-shirt or buff of the house
detailed ABC road book

guided tour with Ronald, minimum 5 persons, on request
price per person: 310.00 € in a double room with shower-toilet in the 'Logis des Chevaliers'
Free access to the Rock Spa & Wellness during your stay.
Extra charge for luxury room/studio with whirlpool or massage-shower with steam bath
in the main building or at the 'Logis des Comtes: 78.00 € per person.
Extra charge for a double-room occupied by 1 person: 62.00 €
Extension night in half board 82.50 € per person
WALKERS
Hiking & Gastronomy in the Naturel Parc "Öewersauer"
High plateaus covered with extensive meadows, schist rocks and deep valleys that adorn themselves in autumn with warm colors and in spring with gorse flowers: This is how you can imagine the Luxembourg Ardennes.
This region, also known as l'Öesling, is also home to many fortresses and wild nature parks (Haute-Sûre and Our). A thousand-year-old history linked to the lords of that time, ardent knights of the Crusades, is detected in this inestimable and so well preserved historical heritage. You become as it were, transported to the time of these valiant knights.
You can expect mountains, nature and unique experiences in the most beautiful hiking regions of Luxembourg. As varied as the landscapes, so unique is our hotel, which is run by our family for 47 years and this for generations.
What unites us is our love for the mountains, our passion for hiking and our endeavor to provide an exciting, enjoyable and authentic hiking holiday for our guests, year after year, day after day. Since 1969 we combine our experiences and ideas and we work together on the development of specific services needed for a perfect hiking holiday. The results of our work are documented in our quality program which guarantees a first class experience and quality of service in the hotel. True to our promise "best for the best" our house meets the following criteria:
Best location
The hotel is surrounded by the most beautiful hiking areas of the 1st Naturel Park of Luxembourg. The hiking trails start right at our doorstep.
Competence and experience
In our hotel you will meet passionate and experienced hiking experts who are available to answer any questions about your walking tours.
Guided tours
We offer once a week a free guided tour with our mountain guides: from family walks to selected hiking tours, night and torch hikes.
Equipment Service
We can borrow hiking gear, such as sticks and backpacks, on availability and free of charge. You can order your picnic the day before for an extra charge.
For groups, we can organise an adventure picnic in the forest with our Minerva Jeep 1952 or our Renault Colette ambulance 1954.
Walking taxi
We can organise the transfer to the departure point of your hiking tour on the trails in the region, even for those individually planned.
Wellness
Enjoy our Rock Spa & Wellness, even on the day of your departure, open daily from 11am till 8 pm
Delicious and healthy cuisine
We spoil you with culinary delights from the region, menus and vegetarian specialties.
Picnic ADVENTURE
For groups and on request we can organise a picnic adventure with our vehicles of the Belgian army.
We await you at a chosen point of your route with everything you need.
New in our shop: butcher KÖnen

We are now selling the products of the butcher shop Könen..
Come discover its delicious products.
New on sale at the store, the "Bouquet de Charcuterie", bouquet of smoked meats
to offer as gift for 27.50 €
Schmaach ëm de Séi a méi
Rue du Moulin 1 - L-9650 Esch-sur-Sûre - Tel 26 889 003 - Fax 26 889 464
schmaach@emdeseiamei.lu - www.emdeseiamei.lu
Our themes - Take these dates down in your agenda!
| | |
| --- | --- |
| 01/06 - 21/06 | Earth and Sea in close Harmony |
| 10/06 | Mammendag (Mother Day) |
| 22/06 - 12/07 | Delicious Medley of Shrimp |
| 30/06 | 14th Night of Legends and Trac-o-lac |
| 13/07 - 26/08 | Discover our pot dishes |
| 27/08 - 04/09 | We are closed! |
| 07/09 - 27/09 | Mussels unlimited 4 course menu |
| 28/09 - 18/10 | Lobster Festival |
| 07/10 | Pappendag (Father's Day) |
| 14/10 - 15/11 | Opening of the hunting season - wild mushrooms |
| 16/11 - 18/11 | Frog Legs unlimited |
| 23/11 - 25/11 | Spare Ribs unlimited |
| 01/12 - 03/12 | Frog Legs unlimited |
| 07/12 - 09/12 | Shrimps unlimited 4 course menu |
| 10/12 - 25/01 | Annual Closure |
open 7 days / 7