Hello [NOM_PRENOM],
Permanent offers
For stays during the week save 15% on prices shown (excluding holidays and holiday season)
Ask our loyalty card to save 10% discount on stays
Free during your stay : access to our unique Rock Spa - Wellness & Beauty Center over 1500 sqm and 3 floors, carved into the rock, to our gym, table tennis, canoes, rowboats, slot racing, petanque, Wi-Fi.
Remember prices are always per person including VAT unless mentioned otherwise.
All our offers and promotions (without exception) are subject to our general conditions which you can read here unless mentioned otherwise in the offer
WELLNESS - HOT STONE STOPOVER

1 ACCESS TO WELLNESS
1 BATHROBE AND TOWEL
1 PROVENCAL SCRUB 25 MIN
1 HOT STONE MASSAGE 50 MIN
Feel your tensions relax and you mind escape ...
120.00 € instead of 140.00 €
Validity May 2018
our Menu " LE GOURMAND "

La petite Salade Riche « Suivant l'humeur de la Brigade »
Ris de Veau, copeaux de Foie gras, Magret de Canard poêlé,
saumon fumé, queues écrevisses …..
ou
Le « Flirt Atlantique CRISPY en Croustillant »
Ou
L'assiette « Campagnarde aux Spécialités de la Boucherie ÖEWERSAUER »
(jambon cru - cuit, saucissons divers, pâtés etc. )
*****
Le « Wellington de Magret des Landes et Blanc de Poularde »
Au Jus d'Herbes
Ou
L' « Alliance de la Mer » suivant arrivage et ses accompagnements
*****
L' « Harmonie de Parfait Maison »
Ou
La petite « Palette Gourmande du Maître Pâtissier »
Ou
La « Coupe Glace FITNESS » aux fruits frais
Au prix de 37,50 € par personne
accompagné de vins adaptés + 16,25 €
our "friture" at the foot of the village is open

Do you fancy fries, a burger, a snack, a drink or an ice cream to take away or to eat on the spot?
Now the Mac Ronald's INN is open for your enjoyment.
Just below our store Schmaach ëm de Séi a méi
Mac Ronald's INN - Rue du Moulin 1 - L-9650 Esch-sur-Sûre
For Groups we kindly ask to reserve in advance if possible tel 00352 621 622 123 Thank you !!!!

spring is in the air !
The sun is back !
Enjoy our panoramic terrace to enjoy our menus with friends or family.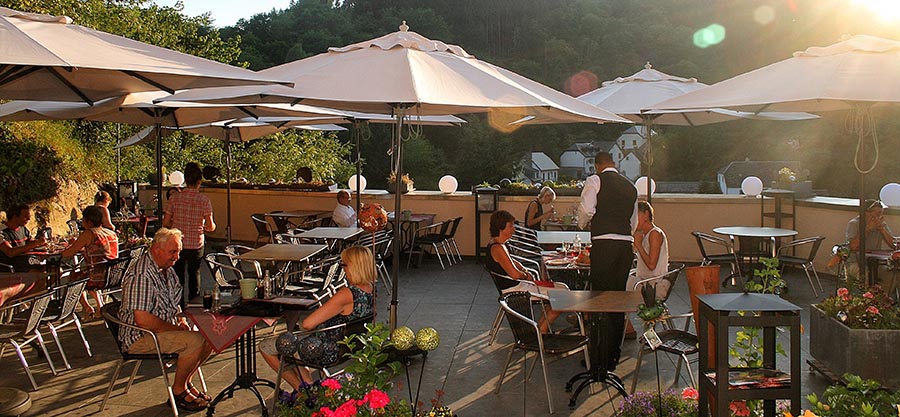 NEW SEASON: Moto/Cabrio/Bike !

included :
2 nights with breakfast buffet
1 welcome cocktail
2 culinary 4 course menus
Topographic map with mountain bike trails and roadmap for car trips with highlights on Luxembourg
1 " Klensch" glass as a present with 2 x ½ litre Diekirch beer filling
T-shirt or cap of the hotel
A coffee mug as a present filled with coffee or tea "vum Séi"
Free use of garage
Free use of our Rock Spa & Wellness during your stay
Price person: comfort room type C:206.00€ - with cash payment: -10 %
Extra charge for luxury room with whirlpool or massage-shower with steam bath in the main building or the 'Logis des Comtes': 44.00 € p.p.
Extra charge for a double-room occupied by 1 person : 50.00 €
Enjoy our new mountain-bikes for a ride in our beautiful region, the Natural Park of the « Haute Sûre des Ardennes Luxembourgeoises »
Rent: 13,00 € for half a day; 22,00 € for a whole day
10 % discount when booking your beauty treatments and massages in advance.
New in our shop: butcher KÖnen

We are now selling the products of the butcher shop Könen..
Come discover its delicious products.
New on sale at the store, the "Bouquet de Charcuterie", bouquet of smoked meats
to offer as gift for 27.50 €
Schmaach ëm de Séi a méi
Rue du Moulin 1 - L-9650 Esch-sur-Sûre - Tel 26 889 003 - Fax 26 889 464
schmaach@emdeseiamei.lu - www.emdeseiamei.lu
Our themes - Take these dates down in your agenda!
| | |
| --- | --- |
| 20/04 - 10/05 | Asparagus Follies |
| 01/05 | 7th Flea Market in ESCH |
| 11/05 - 31/05 | All about Salmon and Asparagus |
| 01/06 - 21/06 | Earth and Sea in close Harmony |
| 10/06 | Mammendag (Mother Day) |
| 22/06 - 12/07 | Delicious Medley of Shrimp |
| 30/06 | 14th Night of Legends and Trac-o-lac |
| 13/07 - 26/08 | Discover our pot dishes |
| 27/08 - 04/09 | We are closed! |
| 07/09 - 27/09 | Mussels unlimited 4 course menu |
| 28/09 - 18/10 | Lobster Festival |
| 07/10 | Pappendag (Father's Day) |
| 14/10 - 15/11 | Opening of the hunting season - wild mushrooms |
| 16/11 - 18/11 | Frog Legs unlimited |
| 23/11 - 25/11 | Spare Ribs unlimited |
| 01/12 - 03/12 | Frog Legs unlimited |
| 07/12 - 09/12 | Shrimps unlimited 4 course menu |
| 10/12 - 25/01 | Annual Closure |
open 7 days / 7