Hello [NOM_PRENOM],
Permanent offers
For stays during the week save 15% on prices shown (excluding holidays and holiday season)
Ask our loyalty card to save 10% discount on stays
Free during your stay : access to our unique Rock Spa - Wellness & Beauty Center over 1500 sqm and 3 floors, carved into the rock, to our gym, table tennis, canoes, rowboats, slot racing, petanque, Wi-Fi.
Remember prices are always per person including VAT unless mentioned otherwise.
All our offers and promotions (without exception) are subject to our general conditions which you can read here unless mentioned otherwise in the offer
WELLNESS - ESCALE BEAUTÉ

A massage... more than a message.
1 entrance Wellness
1 bathrobe and towel
1x fundametal ocean face care (55 min)
1 body scrub (25 min)
1 massage Zen (25 min)
160.00 € instaed of 180.00 €
Validity April 2018
Easter Menu

Served Friday, Saturday, Sunday and Monday

La Petite Salade de Museau pour bienvenue
*****
Le Duo de Filet de Rouget Barbet et Sandre poêlé aux herbes
sur lit de nouilles aux petits légumes aromatisées aux parfums du jardin
*****
La Crème rafraichissante aux Asperges
*****
Le Mariage de Médaillon de Boeuf sur lit d'Asperges
Pommes Dauphines
*****
Le Croquant praliné aux fruits rouges à la crème vanille bourbon
49,75 €

Pour nos petits Amis
Crème rafraichissante aux tomates
*****
Mariage de Noisette de Veau et Boeuf
Sur lit printanière du jardin
*****
Coupe glace surprise
19,75 €
Winter will soon leave!
and the motocycle season will soon begin. Time to oil the breaks!
And we start off with a great promotion for all those who love sharp turns, nature and gastronomy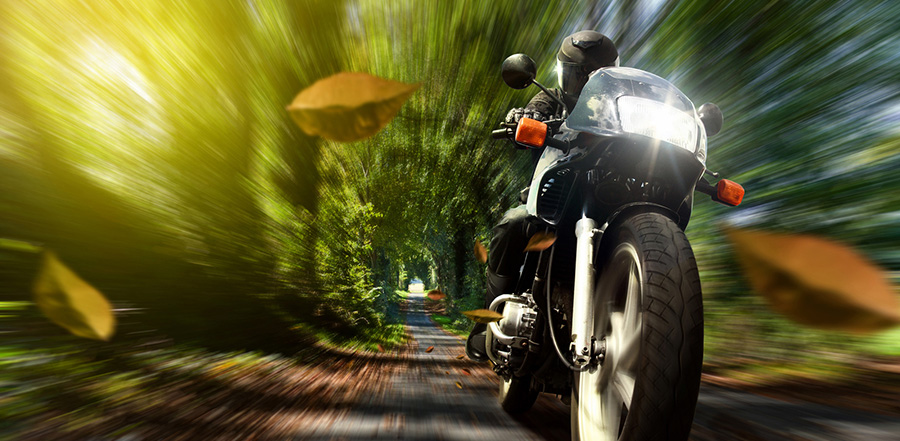 LET'S MOTORBIKE TOGETHER
Daily arrival :
2 nights with local breakfast buffet
welcome cocktail
1 x 3 course dinner
1 culinary 5 course dinner
1 "Klensch" glass as a present with 2 refills of ½ litre Diekirch beer
1 T-shirt or buff of the house as a gift
a coffee mug, as a present, filled with coffee or tea vum Séi
detailed ABC road book
guided tour with Ronald, minimum 5 persons, on request
price per person: 206.00 € (10% discount on cash payment)
free access to the Rock Spa & Wellness during your stay.
All reservations between sunday and friday with the exception of holidays and bankholidays and with cash payment: 175.00 €
in double room with shower, toilet etc. in the 'Logis des Chevalliers'
Extra charge for deluxe room/studio for 2 with whirlpool or massage-shower
and steam bath in the main building or in the 'Logis des Comtes' 45.50 € per person
Extra charge for a double-room for single use: 52.00 €
Extension night in half board 82.50 € per person
Jewelry LYS'OR for sale IN OUR UNIQUE ROCK SPA & wellness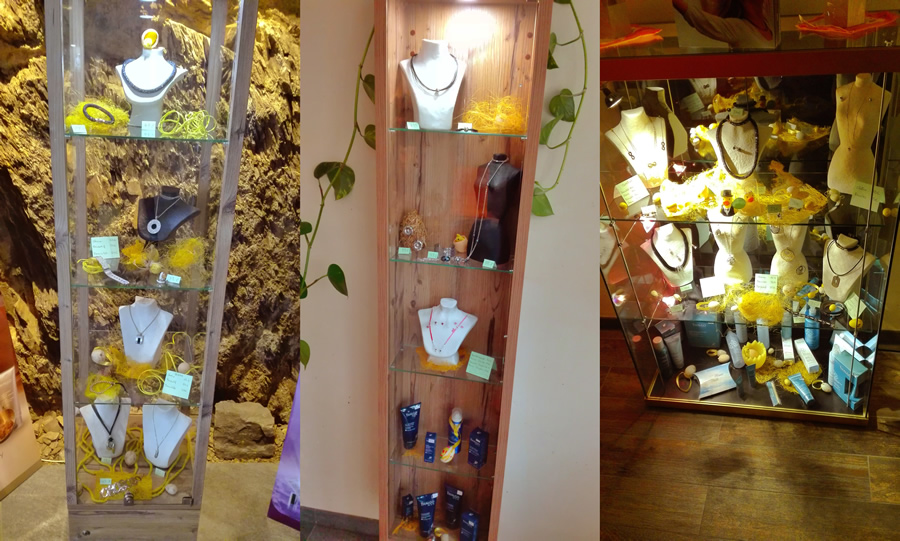 Our REGIONAL BAKERY-HOBBY-DECO shop offers an incredible selection of gifts for every taste and budget.
Need some gift ideas for Easter? Want to offer an original gift? Then come to the Schmaach ëm de Séi a méi!
You will find a wide choice of decorations and products of our beautiful region!
Schmaach ëm de Séi a méi
Rue du Moulin 1 - L-9650 Esch-sur-Sûre - Tel 26 889 003 - Fax 26 889 464
schmaach@emdeseiamei.lu - www.emdeseiamei.lu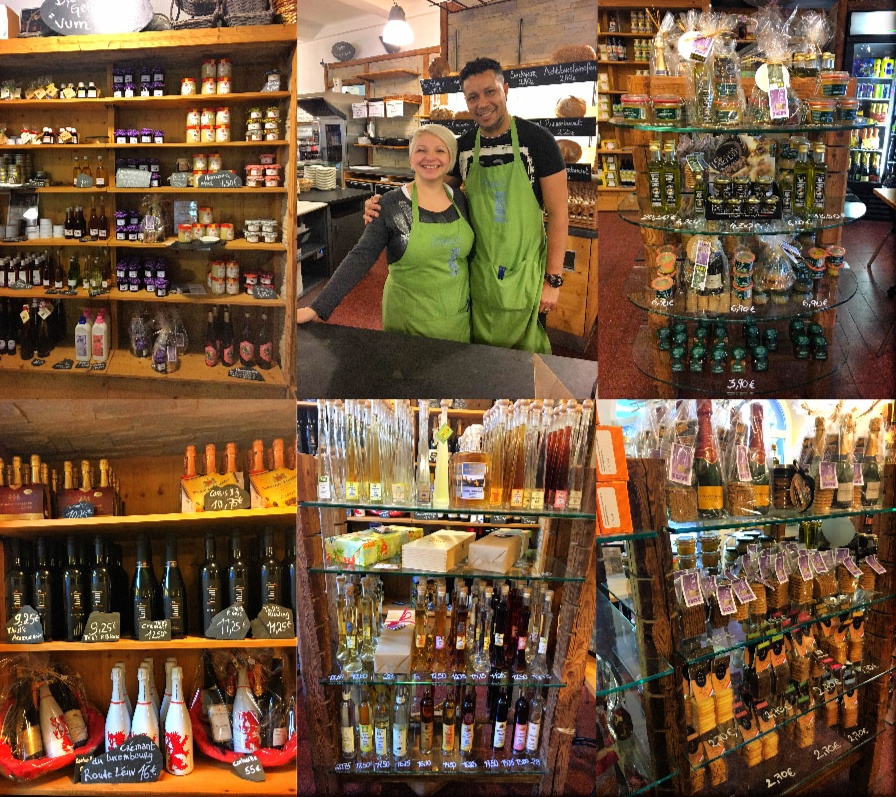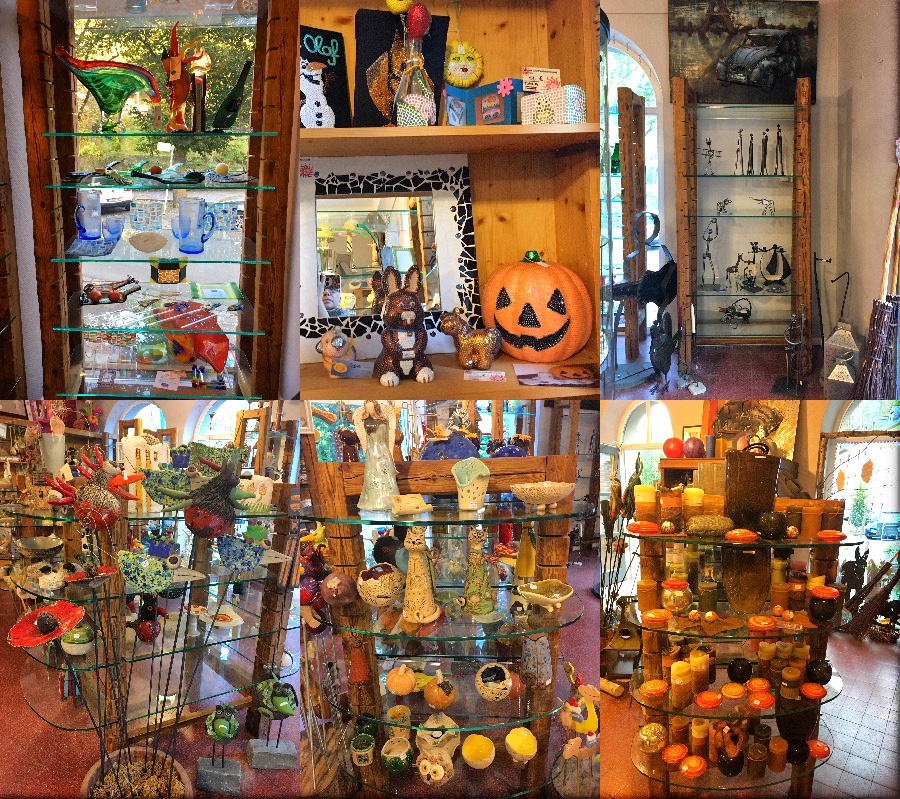 You need ideas for your gifts?
why not a gift MADE IN LUXEMBOURG
We offer a range of baskets filled with different compositions and prices.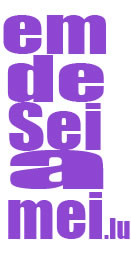 All baskets and sachets are packed and delivered under certain conditions.
all our prices are in € and all taxes included
Schmaach ëm de Séi a méi
Rue du Moulin 1 - L-9650 Esch-sur-Sûre - Tel 26 889 003 - Fax 26 889 464
schmaach@emdeseiamei.lu - www.emdeseiamei.lu
We offer baskets starting at 25 €.
Some examples of price indications: 1 (25 €), 2 (30 €), 3 & 4 (35 €), 5 (45 €) & 6 (65 €) (excluding shipping costs)
Free shipping from a certain amount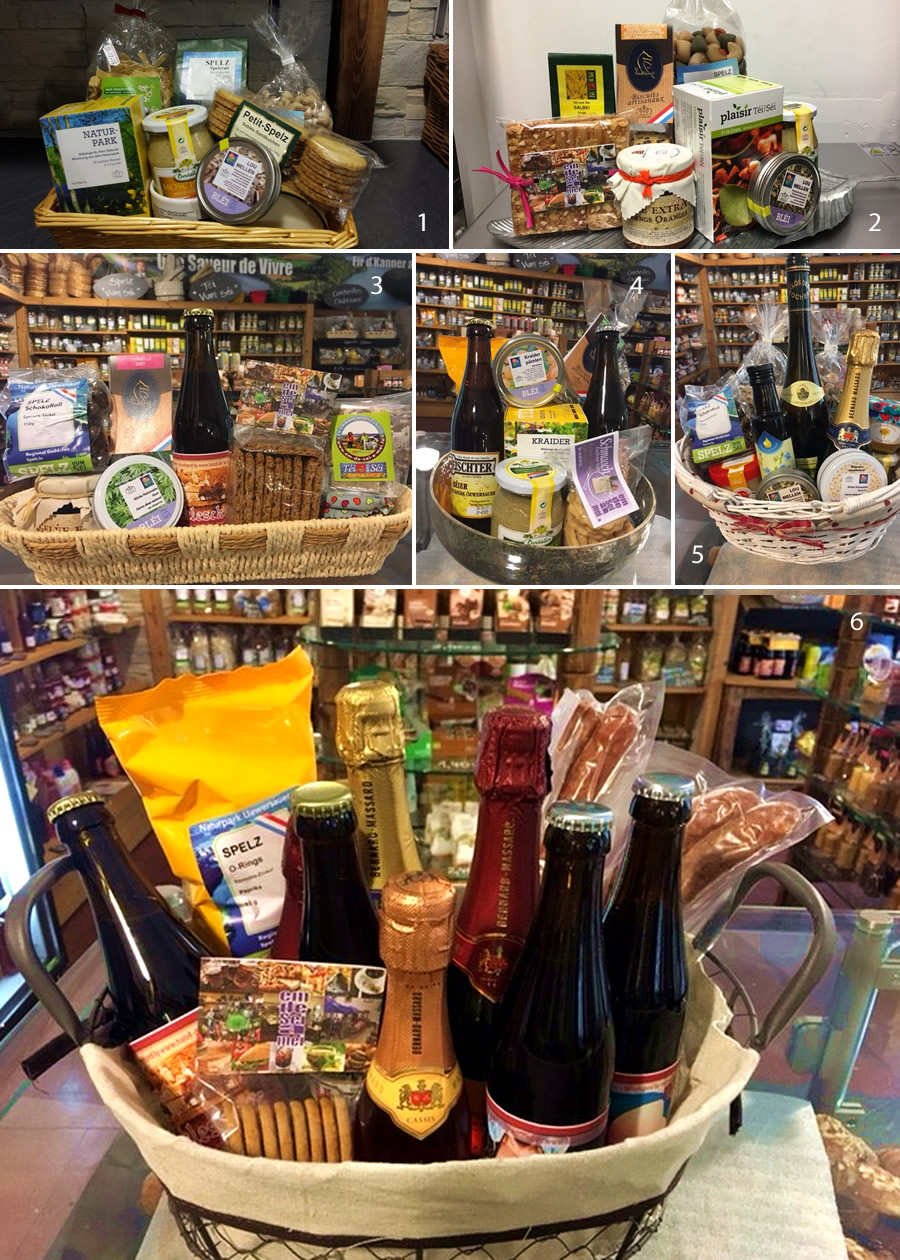 Our themes - Take these dates down in your agenda!
| | |
| --- | --- |
| 26/01 | Reopening after vacation |
| 01/02 - 28/02 | February in Red, it's Valentine's time! Special Valentine's Menu (throughout the month of February) |
| 03/02 - 05/02 | Shrimps unlimited 4 course menu |
| 09/02 - 12/02 | Special Valentine's Menu (throughout the month of February) |
| 16/02 - 18/02 | Italien Menu unlimited |
| 23/02 - 25/02 | Luxembourg Specialities unlimited 5 course menu |
| 02/03 - 04/03 | Spare Ribs unlimited 4 course menu |
| 09/03 - 11/03 | Frog Legs unlimited |
| 16/03 - 18/03 | Mussels unlimited 4 course menu |
| 23/03 - 25/03 | Spring Menu Back to Front with tasting of vinegar flavours |
| 30/03 - 02/04 | Easter Gourmet Menu |
| 03/04 - 14/04 | Opening of the fishing season. River trout in all its variations |
| 20/04 - 10/05 | Asparagus Follies |
| 01/05 | 7th Flea Market in ESCH |
| 11/05 - 31/05 | All about Salmon and Asparagus |
| 01/06 - 21/06 | Earth and Sea in close Harmony |
| 10/06 | Mammendag (Mother Day) |
| 22/06 - 12/07 | Delicious Medley of Shrimp |
| 30/06 | 14th Night of Legends and Trac-o-lac |
| 13/07 - 26/08 | Discover our pot dishes |
| 27/08 - 04/09 | We are closed! |
| 07/09 - 27/09 | Mussels unlimited 4 course menu |
| 28/09 - 18/10 | Lobster Festival |
| 07/10 | Pappendag (Father's Day) |
| 14/10 - 15/11 | Opening of the hunting season - wild mushrooms |
| 16/11 - 18/11 | Frog Legs unlimited |
| 23/11 - 25/11 | Spare Ribs unlimited |
| 01/12 - 03/12 | Frog Legs unlimited |
| 07/12 - 09/12 | Shrimps unlimited 4 course menu |
| 10/12 - 25/01 | Annual Closure |
open 7 days / 7